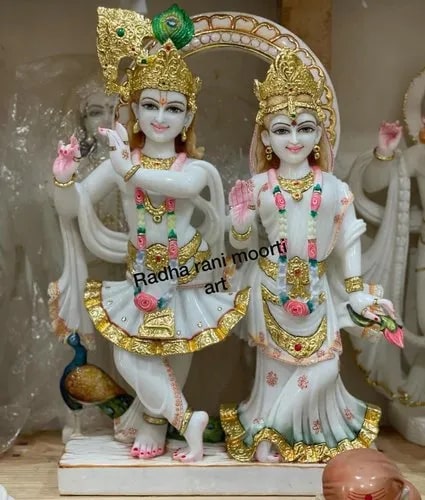 The timeless love tale of Radha and Krishna transcends time according to Hindu mythology. It perfectly captures the sense of adoration and spiritual unity. A Radha Krishna marble moorti (statue) is intricately crafted by artists to honour this holy connection. These masterfully convey the spirit of their dedication and affection.
Temples and houses are adorned with these magnificent sculptures. Additionally, they serve as a reminder of the heavenly couple's intense love for one another.
The Art of Creation: Mastering Marble Sculpting -
Marble, a material renowned for its beauty and purity, serves as the backdrop against which these talented craftspeople may display their abilities. The procedure of making Radha Krishna marble murtis is careful and involved.
To highlight the smallest features, expert sculptors carefully carve the marble. They make sure that each curve and emotion accurately conveys the holy love story's core.
The Divine Beauty: Capturing Radha Krishna's Essence -
The appeal of Radha Krishna marble murtis rests in their capacity to capture the celestial couple's heavenly beauty and love. These sculptures are graceful, with delicate facial expressions and elaborate clothing.
Both devoted followers and art fans are drawn to them. The elaborate carvings stand for their undivided love and enduring spiritual connection.
Devotion in Home: Radha Krishna Marble Murtis as Household Shrines -
Radha Krishna marble murtis are a popular form of devotion in many homes. These sculptures serve as household shrines and serve as centres for prayer and meditation. Families join together to pray, ask for favours, and enjoy the holy couple's company.
A calming atmosphere is produced by Radha and Krishna's placid facial expressions. They engender harmony and calm in the household.
Temple Adornments: Enhancing the Spiritual Atmosphere -
Beautiful marble murtis are frequently used to ornament Radha and Krishna temples. They act as the sanctum sanctorum's beating centre. Many devotees visit these temples because of their exquisite beauty and spirit of devotion. The marble murtis serve as both a physical representation of the god and a source of spiritual inspiration for worshippers.
Symbolism in Stone: Unraveling the Spiritual Significance -
Radha Krishna marble murtis' symbolism gives their holy depictions additional levels of meaning. Radha represents purity and constant devotion and is frequently seen holding a lotus. A peacock feather on Krishna represents his heavenly elegance and defence.
The celestial couple's intertwined hands symbolise their enduring relationship. Krishna's holding a celestial flute is a representation of the charm of divine love that draws all creatures.
Embracing Love and Spirituality: Lessons from Radha Krishna Marble Murtis -
The Radha Krishna marble murtis provide useful life lessons in addition to beautifying rooms with their beauty. Radha and Krishna's unwavering bond surpasses all geographical bounds.
This trains followers to love unconditionally and selflessly. Their unwavering love for one another is a powerful illustration of how people might establish closer spiritual ties with the divine.
Preserving Tradition: Handcrafting Legacy -
Radha Krishna marble moorti creation is an ancient and valued craft that has been passed down through the centuries. The longevity of this artistry guarantees that Radha and Krishna's love and devotion endure in the hearts of followers. Between the past and the present, these monuments act as a link. This continues the spirituality and history of divine love.
The Radha Krishna marble moorti are evidence of the celestial couple's unbreakable tie of love and devotion. These magnificent statues honour Radha and Krishna's love tale. They also provide followers with profound spiritual lessons.
These marble murtis continue to uplift many hearts and souls as they find a place in homes and temples. This directs them on a path leading to love, dedication, and enlightenment. The eternal beauty of these holy representations in marble preserves the tradition of Radha Krishna's love, which endures today.